The Zambia Medical Association (ZMA) is in the process of developing a 100 Bed capacity specialized private hospital to sit on the 5-acre piece of land located on the road frontage of Mumbwa road, 7 km from Lusaka CBD. The project is estimated to cost $15m, and being a not-for-profit organization, ZMA has facilitated the formation of an autonomous business entity called the Zambia Medical Association Cooperative (ZMAC) that will partner with ZMA members and the business community to capitalise this project, and oversee the subsequent construction and development of the hospital.
In light of this, ZMA launched the ZMAC, unveiled the ZMAC board, and announced the Hospital Project as the first initiative of the ZMAC. The hospital is envisaged to serve the local people of Kanyama, citizens of Zambia and overseas patients.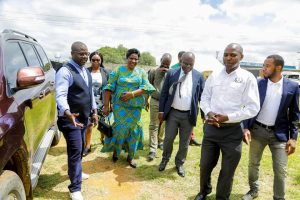 The launch took place on 1st February, 2020 at the ZMA plot on Mumbwa road in Lusaka.
In attendance were area Member of Parliament for Kanyama constituency and Minister of Gender, Hon. Elizabeth Phiri, MP, the Permanent Secretary Administration Ministry of Health, Ms Kakulubelwa Mulalelo, representative of the Mayor for the City of Lusaka -Mr Bwalya and area ward councillor, Mr Brighton Bilumba.
Hon. Elizabeth Phiri expressed positivity with the initiative, and wished for the immediate execution of the project. She noted that the medical needs of the large population in Kanyama cannot be met by the existing health facilities.
Health Permanent Secretary for Administration, Ms Kakulubelwa Mulalelo, elaborated that her Ministry goes an extra mile in helping realize such projects being embarked on by ZMA, because development of any health facility, private or public, is a positive step towards helping government realise the Universal Health Coverage agenda.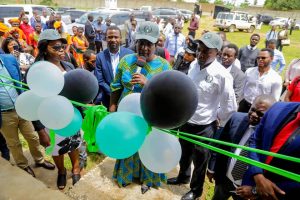 And ZMA President, Dr. Samson Chisele said the project is meant to increase access to health services among residents of Kanyama and beyond.
The inaugural ZMAC Board comprises:
Dr. Kevin Zimba – Chairperson
Dr. Patricia Shinondo – Vice Chairperson
Mr Phillimon Songolo – Secretary (Ex Officio)
Dr. Bright Moyo Jnr – Vice Secretary
Dr. Tamara Kaunda – Treasurer
Dr Jean Baptiste Nzaisenga – Committee Member
Dr. Isaac Sakala – Committee Member
Dr. Sam Musariri – Committee Member