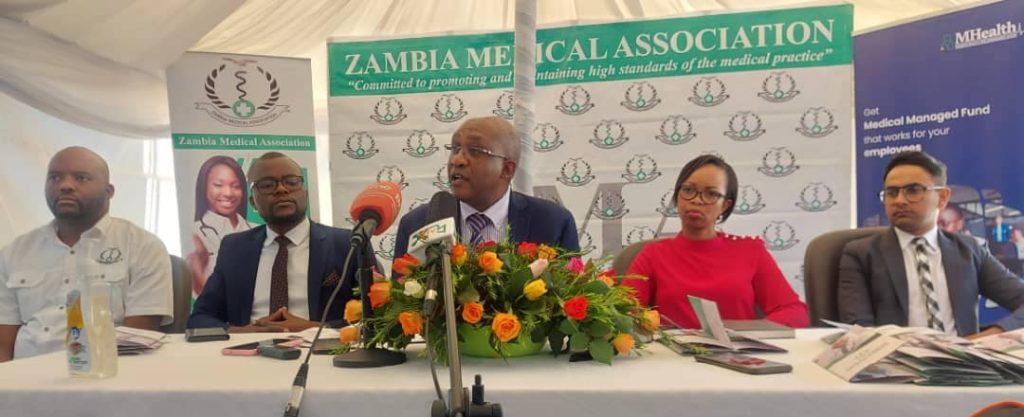 The Zambia Medical Association has today, 24th May, 2023 held a press briefing and launched The ZMA Care for Care Givers Medical Scheme.
The press briefing focused on securing the country's health system through a healthy workforce .
The background was on the global community just coming out of a debilitating COVID-19 pandemic which disrupted:
Healthcare;the way we know it
Changed the way we interacted as a people as livelihoods were heavily disrupted.
Travel,commerce and medical supply chains.
Association President, Dr . Crispin Moyo appealed to the media as a stakeholder to publish accurate and verified information to educate and inform, noting that negative reporting has the potential to dissuade the ordinary Zambians from accessing conventional healthcare from public facilities while also posing heightened risk to the well being of healthcare workers by way of leaving them vulnerable to verbal and physical abuse.
The Executive took this opportunity to launch the ZMA Care for Care Givers (ZMA C4C) Medical scheme in partnership with Madison Health & Risk Management Limited. In attendance was Managing Director Madison Health & Risk -Silo Mubiana and Assistant Manager – Business Development
Madison Health & Risk Management-Ms Linda Chisenga.
The ' ZMA C4C ' initiative is aimed at providing comprehensive health care cover to Medical Doctors and their immediate families in times of need, a milestone that has been work in progress for 7 years.
We therefore invite ZMA members from all corners and generations to sign up for this initiative that will help avert health emergencies that they are not immune to by virtue of being Medical Doctors while also mitigating catastrophic expenditure on healthcare needs for themselves and their immediate lives.